Laserator Class-I Desktop Laser Marking Machines are designed for who likes to work at a work bench or a desk. It is Class-I laser with all the precautions taken to protect the operator and the others working in its vicinity from the hazardous effects.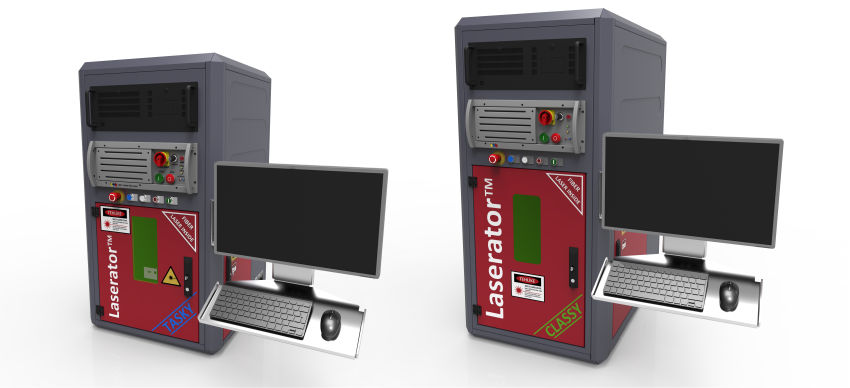 Our Desktop Class-I Fiber Laser Marking Machines are laser marking products that enable the marking of large, heavy or small work pieces on the table and protecting the health of the operator. It incorporates domestic and optionally any imported fiber laser technologies as well as many standard and optional features that facilitate the marking processes and ensure that the laser marking process is performed at the same quality every time. Along with a desktop laserator fiber laser marking machine, we offer the following units as standard and optional units.
STANDARD FEATURES
A Kit of monitor, keyboard & mouse along with industrial computer and stainless steel monitor lift

Side doors for marking larger or longer work pieces.

Programmable Z-Axis with dust bellows that enable automatic focusing with the opening of each different work programs

Rotary axis preparation and Interface

Our Own-designed SAMSUNG LED enclosure illumination set

START, STOP, LIGHTING, EMISSION and EMERGENCY buttons

Enclosure emission preparation consisting of an exhaust port and flexible hose and acrobatic articulated smoke hose set

smt-series Laserator OEM Fiber Laser Engine of your choice

Rear service door and automation panel

Locks & handles on al l doors

Electrostatic Painted sheet enclosure with all required warning signs
OPTIONAL FEATURES
Rotary axes for different purposes

Programmable X or Y axis

X-Y table

Robot with laser tag automation

Programmable C axis

Smoke emission and filtration unit

Smart cameras and 2D data matrix code, bar code and QR code readers, code reading software

Our own designed PLCs and software kits communicating with ERP, MRP or other data banks

Custom rotary axis and vise sets for jewelers

8cm thick granite work table with stainless nuts embedded
We also integrate any of our class-I desktop laser marking models to the automation lines with any required revisions.