Industry-4.0-Ready, Integrable Dot Peen Marking Machines that works can mark metal and plastic work-pieces permanently by communicating with PLCs, such PC Databases as ERP/MRP Software or other controllers.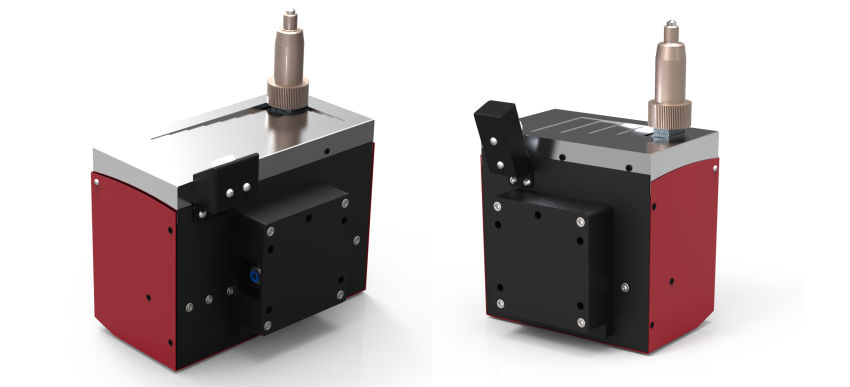 The Integrable dot peen marking machines are mostly the ones preferred by automation companies & machine/system integrators. These model marking machines are not presented with any column or table. Indeed, they come with robotic metal connectors & cable, integrated mounting bracket and any chosen controller out of the box. This model Dotpeenator marking machines capable of communicating with other control units or computers thanks to PLCs or software interfaces can be easily integrated into any automation line at the desired angle or position by means of 4 studs at the respective post of a machine. This product, which can be equipped with 5 different peen-cartridge kits, has LED lighting module for illuminating the marking areas. When activated, the LED marking module ensures trouble-free tracking of the marking process even in the darkest places. 3, 5 and 10m robotic cable pieces and metal connectors allow the marking heads to be easily and safely attached to the control units. These small integrable giants, produced by SERMATEK, a technological R&G enterprise that uses first-class workmanship and long-lasting quality materials, are capable of marking very small and precise contents or so much deep as not to be covered by any painting or coating, which many competitors cannot manage and deliver all sorts of solutions to automation and integration companies. INT series of Dotpeenators, which are manufactured in accordance with Industry 4.0 requirements, can communicate and exchange information with SQL based database by the help of some basic intermediate program pieces. For example, including any external necessary static content such as a logo, any post marking content can be printed out on a thermal name tag by the controller.

These machines, which can operate continuously for 7 days & 24 hours, enclose the axial motor drivers fully enclosed by aluminium coolers and therefore perfectly cooled.