Laserator Class-I On-The-Floor Laser Machining Systems are used especially in shoe sole, shoe leather patterning mold, micro molds, jewelry molds, coin molds as well as in-mold texturing, large area marking, 3D marking, 3D engraving processes.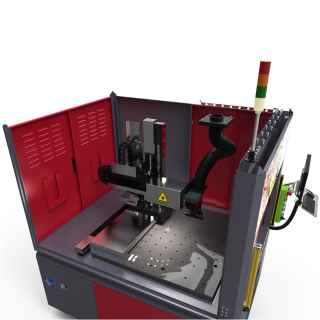 Laserator TUWANA Laser Machining Centers
Laserator TUWANA Laser Machining Centers are laser processing centers with total weights in the range of 1-2.5 tons, consisting of granite work tables and columns on steel construction frame base where more precise and rigid working conditions are demanded. Laserator TUWANA laser machining centers have large working areas. Our cabinets can be equipped with linear / rotary servo motors and drivers, linear scales, a servo control panel, a control panel cooling system, an air emission & filtration system, a re-positioning camera, a reverse engineering laser scanning system, a code reader software and smart camera kit. They are mainly designed for micro laser welding, laser welding, 3D laser engraving, 3D engraving, large area engraving, large area marking, 3D marking operations. With our own innovative PLCs, the Class-I enclosures of TUWANA Work Sations with speed adjustable servo doors of 2-3 panels can be equipped with warning systems, electronic boards and software according to industry 4.0 requirements to meet customer needs. These laser machining centers, which can be equipped with special cameras and laser scanners designed for reverse engineering, are also equipped with one of our own production of high-power 60, 70, 90, 120, 150 and 200W smt-series OEM MP fiber laser engines. The 3D galvo scan heads developed by the SERMATEK R&D team and the financial support of KOSGEB institution of Turkish Government, might constitute one of the most important elements of this laser processing centers.
General Usage Area
Precision model and ingot molds in the jewelry sector

Precision Soles and Leather Forming Molds in the Shoe Industry

Coin and Medallion Molds In-Mold Patterning

Large Area Marking

Large Area Engraving
Optional Laser Motor Technologies
Green Laser

UV Laser

CO2 Laser

Fiber Laser