Sermatek builds up Laser Marking, Laser Engraving, Laser Welding & Laser Cutting Engines that include CO2 Laser, Fiber Laser, Green Laser technologies.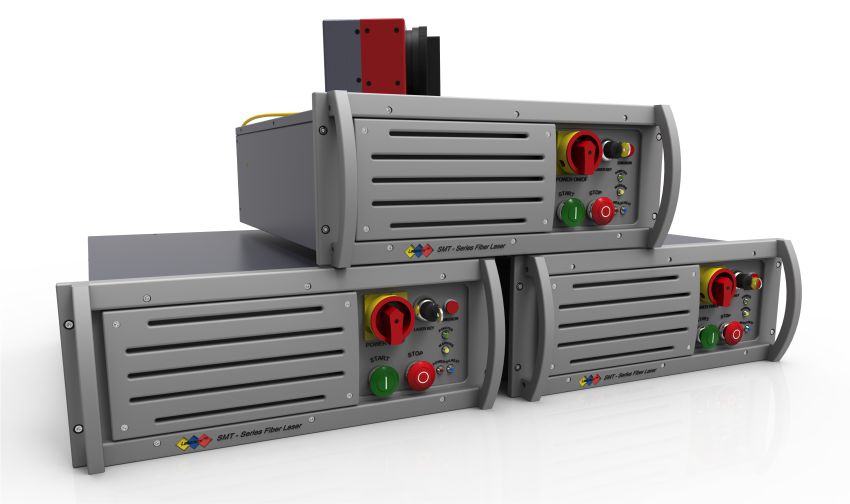 Laserator OEM Laser Engines

OEM Laser Engines including the latest laser technologies are configured in 19" Rack-Mount type 4U, 5U and 6U enclosures designed by SERMATEK engineers. With 8 hours of working time per day, they are projected to have 30 to 40 years of service life with no maintenance required. The front panels of our 19" Rack Mount lasers are manufactured from die-cast aluminum panels that is composed of PAKO switch, Laser key, Emission button, FLIP / FLOP button set and LED indicators. The front control panel has also two 120mm specially manufactured fans with double-fan bearings, fan grill, and filter. These 19" rack mount lasers are high-quality laser products manufactured in accordance with ISO, CE and ANSI standards. With its external multi-axis driving capabilities of 2 axis outputs, the standard voltage output and I / O outputs, laserator lasers are easily integrated into any kind of automation line. Our lasers are manufactured in Izmir with 3 different laser technologies.

Our Laserator software, which is used for up to 120W laser motors supports both marking and engraving operations in 2D and 3D operations. Our professional Laserator software package that can be operated in Turkish, German and English languages can also be translated and used in other languages by end users.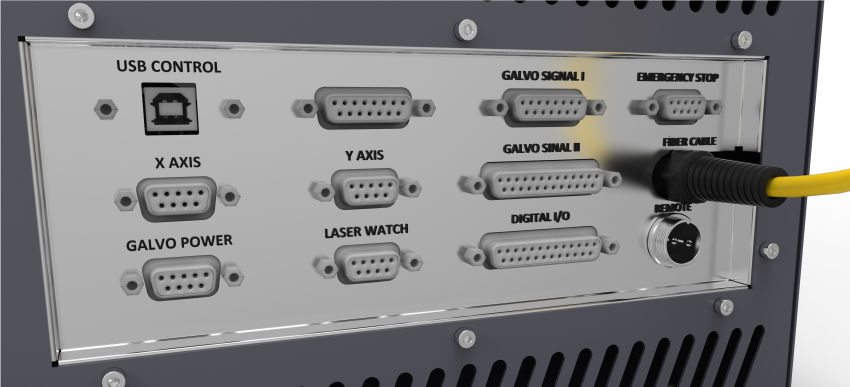 1-Laserator Fiber Laser Engines
"High Energy, High Efficiency, High Stability, Low Energy Consumption, Long Life"
We use Q-Switched or MOPA technologies in our laserator fiber laser engines. Our fiber laser engines with an average wavelength of 1064 nm find use in more than 96% of all the products manufactured on all the industrial fields except for transparent, nylon and wooden products. Adopting the latest innovations in the fiber laser industry, SERMATEK manufactures air-cooled fiber laser motors at powers of 20W, 30W, 50W, 60W, 70W, 90W, 100W, 120W, 150W and 200W. Fiber lasers, in general, are especially preferred over the last 10 years because of their high energy efficiency, low breakdown percentage, long life, low maintenance requirements.

Our Laserator fiber laser engines are built with a q-switch technology giving high pulse energy or MOPA laser technology enabling us to adjust pulse widths within a broad range of frequency.

The Laserator fiber laser engines built in this segment find their places in the following industrial areas.
Laserator 20-50W Ytterbium Fiber Lasers
- Metal surface processing, peeling coating
- Aluminum black marking
- Semi-conductor & electronics industry applications
- Large area engraving
- Excellent marking effect on plastic or other sensitive material
- Black marking on stainless steel
- Silicone keypad marking
- Metal deep engraving
- Metal surface processing
- High-Frequency line processing

Laserator 60-70W Ytterbium Fiber Lasers
- Thin metal cutting & drilling
- Ceramic wafer processing
- Die steel deep engraving
- Large area marking & engraving

Laserator 100-120W Ytterbium Fiber Lasers
- Battery sheet cutting
- Weld different metal
- Die steel deep engraving
- Large area marking & engraving

Laserator 150-200W Ytterbium Fiber Lasers

- Sheet metal cutting, welding
- Scribing, drilling
- Laser de-rusting
- Surface processing
- Metal surface processing, peeling coating
- Semi-conductor & electronics industry applications
2-Ceramic Core Laserator CO2 Laser Engines



"Superior Lifetime, Highest Reliability and Best Power Stability"


Most CO2 lasers offered today are based on the original R&D approach developed at several different aerospace companies in the 1970s. This traditional approach involves extruding or machining aluminum bodies to contain the optical and electrical components inside the laser gas envelope - the laser tube. These designs are convenient for R&D work, but not ideal for building lasers that are reliable, and have long lifetimes. The ceramic CO2 laser tube has a significant advantage.



The leading reliability issue with metal-tube lasers is that the metal is highly reactive with the gas mixture. Over time, as internal components wear, "scrub" each other's surfaces, fresh aluminum is exposed. Free oxygen in the laser's gas reacts with this raw metal (oxidation) changing the composition of the original gas mixture. In addition, many of these designs use O-ring seals that can allow air and moisture to enter the laser tube and further compromise the all-important gas mixture. These issues are eliminated with Ceramic CO2 laser tubes.

Ceramic CO2 laser tube technology solves these problems by moving all the reactive components to the outside of the laser tube leaving only pure clean Alumina (Al2O3) ceramic in contact with reactive gasses. Due to its chemical makeup, Alumina does not react with the gas. Alumina can also be fired at very high temperatures as part of the cleaning process. This further assures there are no organic contaminants from laser tube manufacturing, that remains inside the laser tube to react with the gas.

The ceramic CO2 laser tube is also the optical backbone that holds the resonator optics. The CTE (coefficient of thermal expansion) of alumina is 1/3 the CTE of aluminum. Since laser tube thermal variations have a direct impact on laser stability, Laserator Ceramic CO2 laser engines have significantly better stability performance when compared with metal-based CO2 lasers. Ceramic CO2 laser tubes also enable gas mixtures of comparatively high pressure to be used. Ceramic CO2 laser tubes allow for high-pressure gas mixes and provide for faster rise and fall speed as well as much better power stability.
3-Laserator DPSS Green Laser Engines
"High Energy, High Power, High Stability, Low Noise, Single Longitudinal Mode"
Laserator green lasers include DPSS (diode-pumped solid-state) laser and diode laser. The laserator green laser engines come with cooling and precise temperature control systems and power supplies with overcurrent and overheating protection functions. Laserator DPSS green lasers have stabilized power, easy operation, reliable performance and long lifetime. The green laser products include 5 series: high energy, high power, high stability, low noise and single longitudinal mode laser. Free space or fiber-coupled (SM fiber, MM fiber, homogenization fiber) output available.

Application Areas of Laserator DPSS Green Laser Engines
Photodynamic Therapy

Biological Engineering

Laser Communication

Interference Measurement

Measurement

Material Analysis

Holographic Photography

PIV Particle Velocity

Raman Spectra

Laser Radar

Photoelectric Inspection